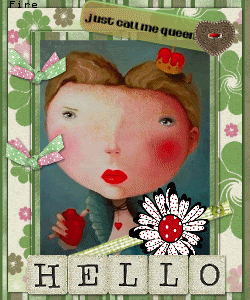 Have I mentioned anytime recently that the demons are fighting back bigger than ever....usually I do not like starting an entry on a downer---people do not like reading journals that are downers...but I am TRULY too tired emotionally and physically to fight the urge not to write about it....I know my entries are sporadic....I usually do not write when the "demons" are going strong....but it has reached a point that I am losing now...I have been fighting for 7 years this damn disease and the affects of the medications and giving up the life I once had....been fighting daily the battles....but I am no longer winning.
I seem to have more things to worry about and I am tired of that too---I have noticed that this bulge has appeared on my stomach---it is the size of a cantaloupe and hurts to be touched...the only time I am aware of it is when I cough or someone touches it....scares the life out of me...nothing I can do about it...but that is another story.....and now my kidneys feel like they have been through a 15 round fight and I lost....my back is killing me...I actually surprised my hunnie and daughter a couple of days ago and said LET'S GO OUT AND EAT....they were so happy I wanted out of the house...so we went to Denny's I ordered a steak dinner---so delicious....but after about 45 minutes of being there...my back was screaming to get out of there....tears just started streaming down my face....my daughter helped me out to the car and there I stayed....I told Allen to take his time finishing up....the car seats help alleviate some of the pain--so I was ok. Well yesterday I again told them that I wanted to go out....to our favorite Chinese restaurant....but after eating for about 20 minutes FORGET IT--I had to go back and sit in the car....the pain was unreal. Once everyone was done eating and we got home---I just cried for the rest of the night.....I thought I had hit a mile stone because-Finally my head was ok to go out and but now my back is not going for it....believe it or not it just SCARES the HELL out of me....I know that Allen is sick and tired of all this.....he has become extremely irritated by it all....I am sure he feels helpless...but in his frustration--I am alone...now who do I turn to? The doctor I have for my lungs is sweetheart...and at the beginning of our long "relationship" with my illness...he was very understanding and took care of whatever my body was going through---but something has happened...because he is NO LONGER doing that....he actually made me feel stupid when I asked him about Klonopin which is what I was taking to take the edge off the anxiety so that I can get out without freaking.....he said FORGET IT...he does not involve himself in other issues...(news to me)...for the first time...I truly felt hurt by him because for the last 7 years he has helped me through everything...As a matter of fact I did have an appointment with him a week ago...but I cancelled it and rescheduled...WHY BOTHER GOING???? I am just going to be given the SAME DAMN MEDS as I have been taking for the last 7 years...7 years of prednisone...which helps me breathe but kills the rest of your body organs, adavair (another steroid) that helps me to breathe but also kills vital healthy cells and the list goes on.....and going - there is no use in trying to tell him how I feel because nothing will change....the lower back problem - I will be told - is not an issue for him.....well maybe it is because of all the steroids I take....but I guess he does not see it that way.

Again--I am freaking crying because I am LOST....and so very fed up with being sick.....I HATE IT!!!! I want my old body and my old life back!!!! My back is not working....my legs are not working, my head seems to leading it's own rampage, my skin looks like I have been through a war zone (sores and boils everywhere)--then my family looks at me and wonders why the HELL am I depressed...GEEEEZZZ!!!
Well I am making myself sick just writing all this---but I had to get it out--this is my last refuge...I have no friends here in my real life---just my hunnie and daughter--and they are tired of it all....life is not easy when you are around me...I will return with what is going on otherwise later---just gotta go for now.
Remember to HUG those you LOVE!!!
PEACE!!!