Finally the time has come....If you have been reading my sporadic blog here...you might remember that I mentioned that Allen (my hunnie) retired from the Department Of Corruption (sorry--Corrections...oooopssss)...Well in order to TOUCH his retirement fund so that we can pay our mortgage payments ahead and not have to worry about it and also to get a new kitchen and roof...we had to wait 90 days...Well when Allen put in the paperwork...they decided to inform him that the rules changed...that the 90 days starts the following month AFTER you retire...(SEE WHAT I MEAN ABOUT CORRUPTION)...the department is FAMOUS here for screwing their staff....never informing staff of policy changes...that is just par for the course sort of speak. So instead of us waiting until May 1st to put in the amount we needed for whatever....we have had to wait an extra month....here lies the problem---the mortgage company has started the paperwork on foreclosure....GEEEEZZZ!!! I definitely understand their position but I just knew that we were going to get screwed having to wait an extra month...and sure enough....BUT...the day has arrived....today...Wednesday...Allen meets the retirement investor to sign the papers to withdraw the money (THANK YOU GOD)...so I am asking you all for a lil prayer that all goes smoothly and by the beginning of next week...our mortgage is paid up and all is well...makes me crazy to worry about it.
Okay...John at BY THE WAY had a photo activity that I did but just never got to post it...but I think once you have made one...if you think about it...they just may make some great gifts....you can save the results and then print them out on photo paper and frame them and give them as gifts....Any way....here are my results...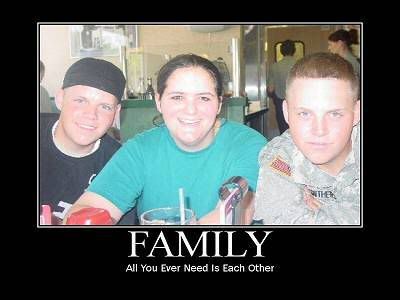 Just a couple of samples of what I did...of course they are resized...but I really like this...
Here is the link to make your own: PHOTO POSTER
Well I think the forum is going pretty good....people are starting to share...I am amazed...and everyone is soooooo nice....I hope you will register and join us...I really think everyone will enjoy it!!! Here is the link in case you have not had a chance to check it out: THIS AND THAT
Well that is all the news fit to print up to now....I HOPE everyone had a GREAT holiday weekend....Here it was peaceful...which is my favorite kind of holiday!!
Remember to HUG THOSE YOU LOVE....PEACE!!!