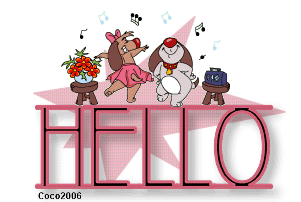 Well First I want to say THANK YOU THANK YOU THANK YOU THANK YOU..all for the beautiful comments and emails I have received...I just sat here and cried while I read each one....you all have touched my heart more then you will ever realized...your support means the world to me....I wish I could reach out and HUG YOU ALL....here is the next best thing...((((((((((HUGS)))))))))
Now .... I am finally going to tell you about a project I have been working on for quite some time...and today was sort of the grand opening for it!!!
I created a forum....a place to be positive....a place where friends can get together and share stuffies or chat or be creative or just be....with NO STRESS AND NO DRAMA.
I really have wanted to do that for a long time and finally it is complete...I am still adding more and more topics to it...but I wanted to INVITE you all to check it out and join me at my forum....registration is SO EASY....and you might just like the place...there are no requirements to post/participate...but I am sure there is something there for everyone!
Here is the link: THIS AND THAT
Let me know what you think about it......and any suggestions are more then welcome...I figured this would be a good way to try and stay positive....to do postive productive things...keep my head busy in a different direction...so I hope you will join me!!!
Remember to HUG SOMEONE YOU LOVE...PEACE!!!