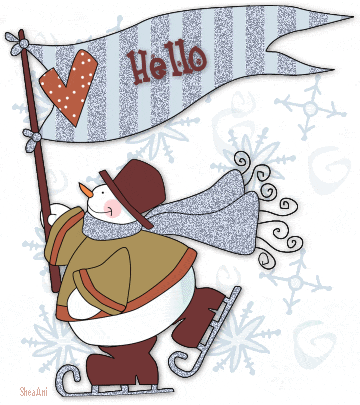 Okay - here I am - nothing much going on over here...I am kind of glad the holidays are over and done with...On sunday we will celebrate "Three Wise Men Day" or "Three Kings Day" . Here you put a bowl of water and a box of hay under your bed to feed and water the camels that are carrying the Three Kings to see the baby Jesus...This is a family tradition that has been passed down throughout the generations in my family. Once the camels drink the water and eat the hay, the Kings leave gifts as a Thank You for feeding their animals on their journey. I guess that is probably one of the strongest Puerto Rican traditions that we have in my family...I love it!!! Then after the 6th that is when we take down our decorations and tree and everything else - and life goes back to "normal" (whatever that is). Believe it or not - out of the three kids in my family (my two siblings and I) I am the only one who has carried on this tradition...sad but true...my siblings were never one for traditions...kind of boggles my mind but does not surprise me in the least. I guess when you make big money - simple things like Tradition go out the door (Thank God I am Not Like That).
I wish you all a very HAPPY AND HOLY THREE KINGS DAY...May the Lord pour his BLESSINGS upon you and yours! We also eat a pork dinner...like pork roast with potatoes and veggies and all the good stuffies....I do not make Puerto Rican meals...that would be an insult to my family - I CANNOT for the life of me cook like that....but that is ok....I'll just carry on the other Traditions...lol.
Christmas was Beautiful here (as well as New Year's) - the daughter got disgustingly spoiled - that girl will not need anything for years to come...lol. But as long as it made her happy - then my job is complete and it was a perfect Christmas. I will tell you about one particular gift I received....my daughter bought me a high tech telescope - it hooks up to your computer - you can look at the stars and take pictures of what you see then download the pics to your computer....WOW - SIMPLY AMAZING!!! I so LOVE looking at stars and the sky and this kid went all out with this telescope...on top of which she bought me a star (yes I know it is only symbolic - but what a beautiful symbol)...I got the certificate and coordinates of my star and she named it Joshua Jaye (her twin)...it made me cry. It was probably the most TOUCHING gift I have ever received...she definitely found a way to touch my heart and soul both at the same time...it is simply amazing!!! I will always treasure it!!!
I received other goodies...like angels to add to my beautiful collection and a mini collectors helmet from the Florida Gators (YAYAYAY) so I was also spoiled...lol. New Year's we stayed home....we celebrated in our own way without the crowds and such and it was really nice...quiet and peaceful and fun!!!
I have been playing with my art and stuff - of which you all know you can check out anytime at my art blog - FINDING MYSELF.
Blogger has also fixed it that even if you do not belong to blogger it is now easier for you to leave your name and the url of your journal in the comments sections...so go over and let me know you have dropped by...(hint hint).
I have committed to creating everyday for 2008 - it is a blog challenge that I talk about in my artblog...also I have committed to taking a photo a day 365 - taking a photo that describes your day...I think these are some positive and good committments that I have made for myself and improving my art...you all are more then welcome to join in...just go to my artblog and check it all out for yourself!!!
Anyway - I had to play after doing some serious blog hopping and tried this out....
What Ellie Means
You are friendly, charming, and warm. You get along with almost everyone.
You workhard not to rock the boat. Your easy going attitude brings people together.
At times, you can be a little flaky and irresponsible. But for the important things, you pull it together.

You are relaxed, chill, and very likely to go with the flow.
You are light hearted and accepting. You don't get worked up easily.
Well adjusted and incredibly happy, many people wonder what your secret to life is.



You tend to be pretty tightly wound. It's easy to get you excited... which can be a good or bad thing.
You have a lot of enthusiasm, but it fades rather quickly. You don't stick with any one thing for very long.
You have the drive to accomplish a lot in a short amount of time. Your biggest problem is making sure you finish the projects you start.
It is interesting to say the least...lol.
I hope your New Year has started off with a bang....Here is to a New Start, Fresh Start with all the best that life has to offer!!!
Remember to HUG someone you LOVE!!!
PEACE!!