Believe it or not-nothing new has happened since the 4th of July. Yes I lead a very boring life. I do not even do crafts anymore because there is no room in our lil puter room..it is just chock full of junk. So I have truly nothing new to say.
Just in case anyone wanted to know—my lawyer did send a formal complaint to W/C about the psychiatrist and has listed another one for me to see. He told me that several of his other clients really like this guy and he does not make them feel like a number. So I am glad. W/C has no choice but to approve it. It is all a matter of time. STILL NO CHECK. I have a call into the lawyer for that too right now. I guess he will get back to me on Monday. This is not a good thing that the check did not come…I will probably have no phone by Monday but there is nothing I can do about that. Beside the obvious reasons behind not having money..first W/C will have to put a trace on the check and a stop payment and then paperwork will have to go in to reissue another check. Of course this means a couple of more weeks..I guess they feel I can live off the land and pay bills with the money tree that is in my backyard. GEEZ!!! I love red tape. NOT!!!
OK…here is a bit of a rant I have—I love the peeps that come by and leave comments in my journal and/or send me emails and such…I love hearing from peeps—but I am finding that this wonderful lil community of J-land has some fake people in it. They claim they are friends yet they could careless. I am just tired of people like that. That is probably one of the main reasons I just keep to myself and only leave comments in a very select few journals—for fear that people are not real-genuine, you know what I mean.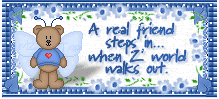 Enough of that—have I mentioned that just to top off my stress and anxiety at the loss of my check, Allen got a nice ticket. For a suspended license. BUT his license is not suspended. When we switched insurances the companies are suppose to relay info with the DMV, well someone dropped the ball and his license was suspended without any notification to us. So when he got stopped by a deputy that just wanted to raz someone in uniform..(BELIEVE ME, SHE WAS ON THE WAR PATH) even her partner had to tell her to back off, she informed Allen that he was driving with a suspended license. She gave him a $115.50 ticket and took his license. Allen was HOT by the time he got home. The reason we know that she wanted to go off on Allen is because on the speaker of her car she called out for him to step out of his vehicle. Usually here they do not do that unless you are wanted or something. Just because the highway is so busy with traffic. Then when he did she was drawing her gun… screaming at him, asking if he had any weapons. Sorry but the _itch is crazy. Her partner in another vehicle came racing down the highway and had to pull her aside, after speaking with her—she toned down a bit. So to make a long story short—I went to the DMV website and entered our insurance info and then looked up his license status and it is not suspended. So all he has to do is go to the courthouse and provide proof that his license accordingto the DMV is not suspended and we have insurance. Allen tried to show her his insurance card but she refused to look at it. Usually here fellow FDLE officers giveeach other a courtesy about tickets and such if it can be cleared up but apparently this deputy wanted blood. So it took Allen quite a while to settle down about it all and relax. Needless to say this set off his headaches for two days. GEEZ—I do feel for him. BTW- A friend of his took him to DMV and he got his license back. He is now a happy camper and all is well on the home front.
Heard from my son AJ (army kid) last night. He only has two more weeks left to his MOS training and then he gets to go home. So I am very happy for him. He also decided to tell me that he got a tattoo. LORD- Both boys (twins) got tribal tattoos on their upper arms. Allen is not happy about it, I think some tattoos are very cool. AJ loves it so that is all that matters.
That is it folks-all the news that is fit to print…LOL.
Enjoy your weekend and take time to relax and enjoy your loved ones.
PEACE!!!!