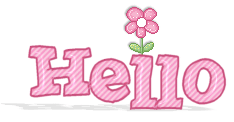 It is OFFICIAL....Hurricane season has started....and sure enough all weekend we got the MUCH NEEDED rain from Tropical Storm Barry....Of course the roof is not mended yet so our garage had a nice soaking..(this is getting old) but hopefully this will all be taken care of soon!!!! As much as it rained...and boy did it rain...it is just as dry and hot outside...I predict this summer is going to be a scorcher!!!
Today is the first day of summer school....Crystalyn signed up for summer school on her own...she has to make up a biology class that she did not do well in....and has to take a team sport PE class so that she does not have to hassle with that during her senior year. Now each of those classes are two weeks long for 6 hours a day...so first she has biology and then PE...so by the end of June she is done and caught up and one class ahead going into her senior year...She has a friend that will also be in summer school so at least she has someone to hang out with...say a lil prayer for her that she passes these two classes and I think she will really enjoy the rest of her summer. She does not go back to school until late August...so she will have just short of 8 weeks of summer to enjoy and go crazy.
Well I was bored one night and decided to do some graphic playing and came up with this graphic....it was just for fun but I like the way it turned out!!!
Okay....Now remember tomorrow the money is suppose to be released and a check cut for Allen....we are suppose to see it hit the bank on wednesday...so keep some positive thoughts going...I just do not trust the state! I showed Allen all the cabinets and such I would like from Lowe's and he liked it also....I knew it would...they are oak...and they match a table that he sanded and stained years and years ago....truly the prices are ALOT less then what we thought....we have been looking at ranges...and chest freezers...we used to have a chest freezer but after about 8 years it just quit...so we would like another one...smaller since there is only the three of us...and we found one we like....so now we just have to find a counter top that is reasonable and DOES NOT have particle board...and hopefully we can get stuff ordered.
What is a shock for me.....there are now 15 members at the THIS AND THAT forum...I am so blessed that people joined and actually like it....I think it is going smoothly...I am trying to think of more ideas for it...kind of stumped right now...but I am open to suggestions (hint hint!!!)
Well I think I will go get a cup of coffee and listen to the news for a bit...sleep is rare and far between...just another phase it seems...drives me crazy...but I am getting used to it!
I hope everyone has a GREAT week...remember to HUG THOSE YOU LOVE.....PEACE!!!